Hello all,
It has been a long time since I wrote a newsletter so it may turn out to be a long one...perhaps a good idea to put on the kettle, toast a Crich Fruit Square and settle down to read what's happening at the loaf!
New menus in Crich and Matlock
Today we have launched new menus in both the Crich and Matlock Green cafés. Though retaining all the favourites, we have added some delicious new choices and, in particular, built on our range of freshly prepared salads.
In Crich, we are delighted to make the vegetarian haggis a permenant fixture as a breakfast option. We have also introduced two ciabatta bruschetta dishes - one with warm mushrooms, walnuts and goats cheese and the other with sautéed cherry tomatoes, red onion, buffallo mozzarella and basil leaves.
In both cafés there is a flan of the day served with a selection of freshly prepared salads. There is also our range of gourmet sandwiches including the ever-popular 'Crich Deli Club'.
For more information about both menus, check out the web page about Crich, or the one about the Matlock Green café. Better still...call in and take a look for yourself!
Pizza night gets rave review...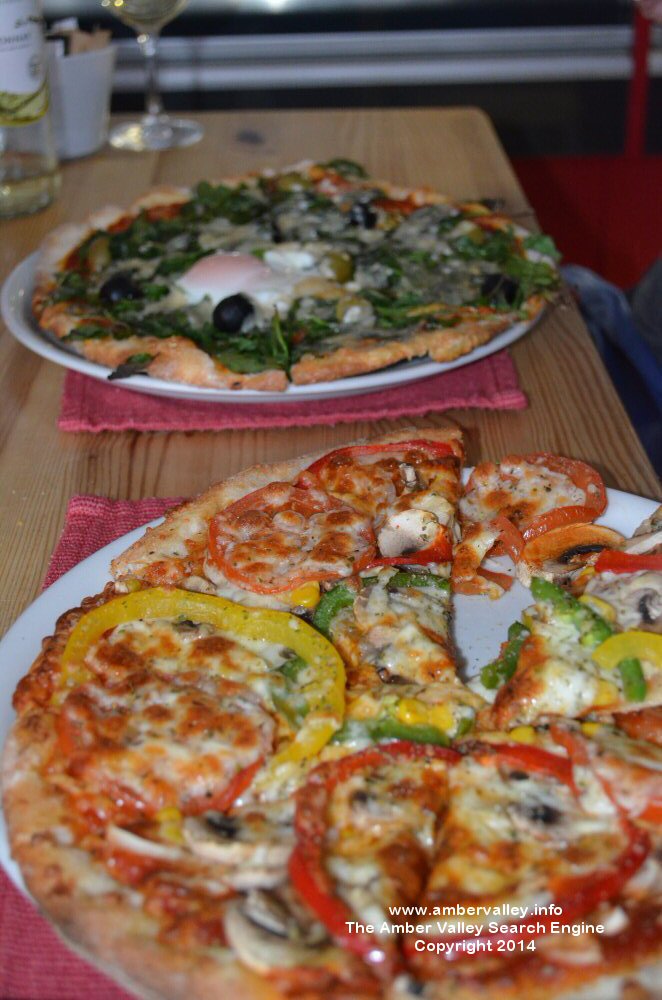 We were delighted to welcome bread regulars from Amber Valley Info to our pizza night recently and were really pleased when we learned that they had written up their visit in this lovely blog entry. It is so great to know that what we produce here at the loaf is being enjoyed.
As they mention in the review, we are regularly fully booked in both the six o'clock and eight o'clock sittings so do call on 01773 857074 to reserve your table.
Pizzas to take away
Why not consider having a takeaway pizza and save the bother of mid-week catering! Just call on 01773 857074 to order and you will get a 10% discount for ordering two or more pizzas.
All details of the menu and weekly specials are on the website.
Bread baking demonstration at the Great British Food Festival
This Sunday, as part of the weekend-long Great British Food Festival at the National Trust's Hardwick Hall, I will be giving a bread-baking demonstration at 11.30am. I am among several other local chefs and bakers giving demonstrations and the whole weekend is one for you foodies out there. And all at the beautiful Hardwick Hall.
Bread-making courses...more in development
The courses in the Bakehouse in Crich continue to be very popular. The yeasted doughs course 'All about the dough' is a hit with beginners and seasoned bakers alike. '100% Sour' is definitely one if you are up for the challenge of kneading wet doughs and the French course is one for the butter lovers among you with both the croissants and the brioche absolutely dripping in the stuff!
There are now quite a number of people who have been on all three courses and are keen that I develop some more. To that end, I will be visiting a bakery in Germany where I used to live - in fact I taught Howe Carstens some English - in August. Following this, I would like to launch a German breads course and thereafter will be developing a course in Scandinavian breads and Italian breads. Watch this space and if you have any further suggestions, please let me know. All details of current courses and dates are on the website.
Summer markets to look out for
As well as our monthly regular markets and farmer's markets, which now include the increasingly popular monthly Fine Food Fair in Buxton (pictured), do look out for us at the following one-off markets that we will be attending over the summer:
The Carsington Water Food Fair on Sunday 29th June.
The Fabulous Places Summer Market on Saturday 5 and Sunday 6 July.
The Bakewell Green Festival on Saturday 12 July.
The Belper Summer Food Festival on Sunday 13 July.
The Bolsover Food and Drink Festival on Saturday 26 and Sunday 27 July.
The Ashover Show Food Marquee on Wednesday 13 August.
Do try to join us at some of these events where we will have a full range of our Sourdoughs, ryes, continental breads, croissants and scones as well as the ever popular Portuguese Custard Tarts.
Products to try this spring
Stuck for something to give the family to eat? Burnt sausages from the barbecue losing their appeal already? Why not put together a delicious mezze of deli items from the counters at the loaf. Local and continental cheeses, olives, sun-blushed tomatoes, salamis and potted beef, all tied together with a crusty loaf of sourdough.
Sconetastic Sundays
Sunday regulars will have noticed that I use the opportunity of a quieter bake to develop new scone recipes and so there is often something new to try on a Sunday in the scone line. Whether you pronounce them 'scone' as in 'gone' or 'scone' as in 'bone', your taste buds are sure to be teased by flavours such as:
Poached pear and chocolate
Coconut and lime
Lemon and poppyseed
Spiced apricot and orange
Cherry and almond
Apple and ginger
Black forest
Scottish treacle
So look out on twitter for tweets and pictures about #sconetasticsunday and get up to Crich quickly before they sell out!
Icecream for when it gets hot!
We are delighted to be a stockist of icecream from Bluebell's Dairy, Spondon near Derby. We always have their Devilishly Chocolate, Double Cream Vanilla and Strawberries and Cream in stock but also have other flavours to choose from subject to availability.
The Bakehouse is available for you
If you are looking for a bright and well-appointed space to hold a meeting or run a training course and want your delegates to enjoy catering that you know and trust, then look no further than The Bakehouse in Crich.
With packages available from basic room hire to a full day's catering and equipment like flipboards available too, your event is sure to go smoothly. Contact Rog for more information and to make a booking.
New faces at the loaf
We have had a few changes in the team over recent weeks. Regulars in Matlock Green will already have met Charlie Broomhead who is running our Matlock branch and always has a cheery smile and a warm welcome.
If you attend our markets, you may have been served by Andrew Binder who has joined us to drive the van and man the market stalls wherever we find ourselves.
And then behind the scenes in the bakery we have just welcomed Pawel Chrzanowski and Craig Williamson to the team who work hard through the nights to bring you the freshest and biggest range of breads in the area.
All best wishes for a warm Spring and a warmer Summer!
Andrew and Rog
Tuesday 29th April
Soup: Soupe au pistou
Dish of the day: Stuffed mushroom & halloumi pittas

Wednesday 30th April
Soup: Soupe au pistou
Dish of the day: Stuffed mushroom & halloumi pittas

Wednesday night is Pizza Night
Pizza of the week: Puttanesca - Cherry tomato, anchovies, capers and kalamata olives
Desserts: Tiramisu, Banoffee pie, Lemon cheesecake

Thursday 1st May
Soup: Butternut squash,bacon & Swiss cheese
Dish of the day: Aubergine and sesame stir fry

Friday 2nd May
Soup: Butternut squash,bacon & Swiss cheese
Dish of the day: Aubergine and sesame stir fry

Saturday 3 May
Soup: Pea and courgette
Dish of the day: Lamb burgers with avocado and feta

Sunday 27th April
Soup: Pea and courgette
Dish of the day: Lamb burgers with avocado and feta
« previous page
   (Page 1 of 1, totaling 2 entries)   
next page »