It seemed time to share a recipe from 'Sconetastic Sunday'...
Brie and Sage Fondant Scones
(Makes 9)
500g plain or strong white flour - whatever you have but not self raising
100g butter or good margarine
20g baking powder
1 heaped tsp grain mustard
Fresh sage, chopped
50g grated cheddar
250g water
200g? Brie
Egg to glaze
Rub fat into flour and baking powder lightly and with your finger tips. Mix in mustard, a good handful of sage leaves, chopped and the grated cheddar. Add the water and mix to a soft dough quickly but do not knead or over-work the dough. Split the dough into two even pieces. Roll each piece out into a square just over 1cm thick, tucking the edges under as you roll to get each piece as even and square as possible. Mark the first square into 9 equal squares (3 x 3 for the non-mathematicians) but do not cut the dough right through. Push a 1cm cubed piece of brie into the middle of each little square. Place the other square of rolled out dough over the top, taking care to make sure the sides match up. Roll the whole piece in both directions to seal the dough together around the brie and until the whole piece is now just under 2cm thick. Mark again into nine equal squares. Glaze with a beaten egg and then cut cleanly into 9 scones.
Space out on a baking sheet lined with baking parchment. Rest for 10-20 minutes. Bake at 220 degrees centigrade for 12-15 minutes until the top is golden brown but there is still a little give in the sides.
The Brie is fondant while the scones are still warm!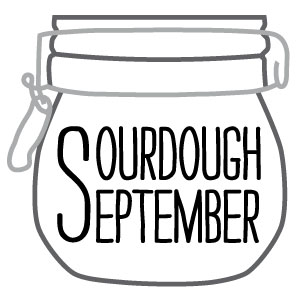 We are very proud to support the
Real Bread Campaign
and are delighted to be taking an active part in their 'Sourdough September' campaign. Through various events and initiatives, the aim is to spread the word about the wonders of baking and eating sourdough bread.
Now if you are a customer of ours already, you will know that a large part of our range of breads is sourdough...but how much do you actually know about what sourdough is and how it is made? In short, we use the power of naturally occurring wild yeasts to raise the bread instead of using cultured yeast. These wild yeasts are in the air around us and in the flour we use to make the bread. We have thriving cultures of so-called 'sourdough leavens' (also called levains, starters, mothers, 'the beast'!) in the bakery which we nurture and feed every day so that they retain their vitality and power and their ability to raise the bread. We even take them home for Christmas! Because the yeasts in the sourdough cultures are more gentle than cultivated yeasts, the bread takes a lot longer to ferment, prove and rise. This time allows the dough to develop fantastic flavour - making sourdough breads the most delicious and complexly flavoured breads of all.
The team of bakers at the loaf are justifiably very proud of the sourdough breads we bake and enjoy making them. So much so that we want to learn how to bake even more sourdough bread. So, as part of the Sourdough September campaign, during the ninth month, we are going to bake nine new sourdough recipes for you to try and buy from the loaf.
Right now, we are working on test baking these recipes. This week we tried a recipe from the boys at the
Bourke Street Bakery
in Sydney for Anise Fruit Sourdough. Here is a picture of the resultant bread:
We also came up with a recipe for a sourdough ciabatta-style bread - it was 'bread of the day' in the Café on Saturday if you were in for breakfast and was going down a treat!
A couple of weeks ago we test-baked a recipe taken from
Nils Schoener's wonderful blog and recipe book
. We are going to call it 'Coarse German Rye' and we are really looking forward to baking it again in September. I am even going to bake a few loaves of it to take to my German friends when I visit them in a couple of weeks time.
Other ideas for the month are still in development but we will be baking sourdough soup bowls, some Polish sourdough recipes - courtesy of Jaroslaw and Pawel, our Polish bakers, a sweet sourdough recipe from Hawaii found by our head baker, Keith and something that bakery assistant Craig is going to develop. So watch this space for a full list of these exciting breads and a timetable for when you will be able to taste and buy them in the shops.
In conjunction with all these new sourdough breads, we will also be running events, tastings and special menus in the Cafés. More details will appear in the blog and on the website over then next couple of weeks.
Finally, don't forget you can learn how to bake sourdough bread yourself by coming along to one of my
bread baking courses - 100% Sour
. They are a great introduction to sourdough bread baking.
« previous page
   (Page 1 of 1, totaling 2 entries)   
next page »