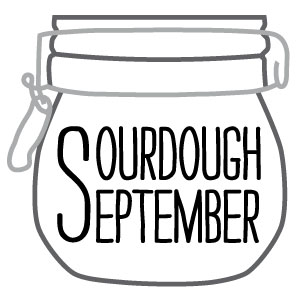 We are very proud to support the
Real Bread Campaign
and are delighted to be taking an active part in their 'Sourdough September' campaign. Through various events and initiatives, the aim is to spread the word about the wonders of baking and eating sourdough bread.
Now if you are a customer of ours already, you will know that a large part of our range of breads is sourdough...but how much do you actually know about what sourdough is and how it is made? In short, we use the power of naturally occurring wild yeasts to raise the bread instead of using cultured yeast. These wild yeasts are in the air around us and in the flour we use to make the bread. We have thriving cultures of so-called 'sourdough leavens' (also called levains, starters, mothers, 'the beast'!) in the bakery which we nurture and feed every day so that they retain their vitality and power and their ability to raise the bread. We even take them home for Christmas! Because the yeasts in the sourdough cultures are more gentle than cultivated yeasts, the bread takes a lot longer to ferment, prove and rise. This time allows the dough to develop fantastic flavour - making sourdough breads the most delicious and complexly flavoured breads of all.
The team of bakers at the loaf are justifiably very proud of the sourdough breads we bake and enjoy making them. So much so that we want to learn how to bake even more sourdough bread. So, as part of the Sourdough September campaign, during the ninth month, we are going to bake nine new sourdough recipes for you to try and buy from the loaf.
Right now, we are working on test baking these recipes. This week we tried a recipe from the boys at the
Bourke Street Bakery
in Sydney for Anise Fruit Sourdough. Here is a picture of the resultant bread:
We also came up with a recipe for a sourdough ciabatta-style bread - it was 'bread of the day' in the Café on Saturday if you were in for breakfast and was going down a treat!
A couple of weeks ago we test-baked a recipe taken from
Nils Schoener's wonderful blog and recipe book
. We are going to call it 'Coarse German Rye' and we are really looking forward to baking it again in September. I am even going to bake a few loaves of it to take to my German friends when I visit them in a couple of weeks time.
Other ideas for the month are still in development but we will be baking sourdough soup bowls, some Polish sourdough recipes - courtesy of Jaroslaw and Pawel, our Polish bakers, a sweet sourdough recipe from Hawaii found by our head baker, Keith and something that bakery assistant Craig is going to develop. So watch this space for a full list of these exciting breads and a timetable for when you will be able to taste and buy them in the shops.
In conjunction with all these new sourdough breads, we will also be running events, tastings and special menus in the Cafés. More details will appear in the blog and on the website over then next couple of weeks.
Finally, don't forget you can learn how to bake sourdough bread yourself by coming along to one of my
bread baking courses - 100% Sour
. They are a great introduction to sourdough bread baking.
During a trip to the Pelion Peninsula in Greece earlier this summer, Rog and I were lucky enough to have this fantastic bakery as our local. As is my habit when on holiday these days, I dived straight in and sought out the baker. It wasn't hard in the Lafkos bakery as Ioannis Drositis, owner and baker, is there most of the time that the bakery is open. Also, with the oven situated in the shop itself, when he is baking, you get to see everything which is fantastic.
Ioannis has baked here since he was 8 years old as it was his father's business before him. His mother still helps him making the delicious feta and spinach pies that are so much a part of Greek baked cuisine. His father is also still very much involved, helping stack wood for the wood-fired oven and being on hand to help on high days and holidays with the baking.
This is the fire box for the oven - said to have come from one of the steam locomotives that work on the
Pelion railway from Volos to Mileai
. The railway was originally going to reach as far down the peninsula as Lafkos but this plan never came to be. The oven is fired with olive wood from tree trimmings collected during the annual pruning of the olive trees. Ioannis explained that though the olive harvest isn't a guaranteed annual thing - sometimes there is no harvest for a couple of years - the trees are trimmed every year so there is plenty of wood available. The olive wood gives the bread a particular and unique flavour. Ioannis also uses another type of local wood which gives the flames a particularly yellow hue. He has to remember to put the following day's wood in the cooling oven at the end of the baking day to completely dry out so that it bursts readily into flame when he needs it to. You don't want to be trying to get damp wood to burn at 3am with a day of baking ahead of you!!
This picture is of Ioannis using an old pair or trousers, soaked in water, to cool and wipe the floor of the oven prior to baking. The oven is very deep with a hole in the middle of the floor down into the firebox. Ioannis uses a long pole to sweep the trousers right round the circular floor, dexterously avoiding the hole and the flames below. The heat comes up through this hole, hits the conical roof of the oven and then sweeps right out to the edges giving a nice even bake all around. The oven is some 100 years old and in that time has only been re-floored three times - once most recently by his father.
This is the small bakery where all the doughs are mixed and prepared. A large proportion of the bread Ioannis bakes is sourdough. However, unlike us where we start each dough off with a leaven that we have mixed and built in volume the day before but which we keep going from day to day by feeding it, Ioannis starts each individual dough off from scratch as a new sourdough culture 10 days ahead of when he is going to bake it. He uses three different methods for starting a sourdough dough: the juice of boiled onions, sharp wine as a bi-product of the wine production, or lemons. Mixed with flour, water and salt, these starters are then left to help the dough begin a natural fermentation process over the course of the 10 days. Every day, the dough is added to and turned. This means that there are doughs in various stages of development all around the bakery - all sourdoughs, all their own unique wild-yeast culture.
Once finally mixed and fermented, Ioannis uses this nifty conical moulding machine to shape pieces of dough into round loaves. As the piece of dough passes up and round the cone like going backwards on a helter-skelter, it is turned and rolled into a round ball. The loaves are then proved in long wooden cases on cloths. There is plenty of warmth on the Pelion to ensure a nice lively dough and good proving conditions!
Each loaf is then individually transferred from the wooden cases to the long peel, scored and slid deep in to the oven.
These are the loaves right in the back of the oven but Ioannis can fill the whole oven with loaves, using the peel to move them around as necessary during the baking. However, from what I could see, they were pretty much left to bake without being disturbed and they came out very consistently and evenly baked. It would seem to be a very efficient and even heat right across the vast space.
It was an absolute delight to meet Ioannis and to share information about our different breads and different techniques. I am doing my best to encourage him to come and visit us in our bakery in Derbyshire - not such warm weather but we have other attractions! He says that if this autumn is a year when there is no olive harvest, then he may well have the time for a visit. I do hope so.
We are either looking for someone who is keen to start a career in the catering industry by being an Apprentice Kitchen Assistant or we are looking for an experienced person wanting to continue their career in catering as Kitchen Assistant at our busy Crich Café. The full job description is below.
If interested in the role as an apprentice, this is an opportunity, alongside a formal college course in catering, to learn how to produce scratch made food from fresh ingredients, work in a busy kitchen, serve customers in a friendly and well used café and start a career in a fun and exciting industry. The applicant will be undertaking a college course at a local catering in a catering related course. The job includes provision for one day a week day release to study at college.
If not applying as an apprentice, the job is around 30 hours a week across four shifts. Currently these days are Thursday to Sunday. Please detail relevant experience in your application.
If you are interested and have either started a relevant catering course at a local college or are looking to start, or you are experienced in catering roles please
apply by email
or by dropping a CV and covering letter in to the Crich Shop.
Apprentice Kitchen Assistant/ Kitchen Assistant – the loaf
Job Description
1. Job Purpose
1.1 To prepare and serve food to customers. To serve customers in the shop and
café with bread, options from the café menu, drinks, chilled and dry deli
counter produce. To maintain a clean and safe working environment.
2. Main Duties
2.1 To assist the chef in the kitchen in food preparation and in compilation of take
away and café food where necessary.
2.2 To serve customers in the café and shop, advising customers on the products,
with information that is available, and offering alternatives where appropriate.
2.3 To ensure that machinery is cleaned safely and maintained appropriately
where allowed to use and/or cleaned in accordance with procedures.
2.4 To ensure that the kitchen area, crockery and cutlery and kitchen equipment,
is cleaned regularly and as appropriate at the end of a shift
2.5 To take orders (bread in particular) from customers, and prepare these orders
within your shift where possible and/or ensure these are recorded in the order
book ready for the next shift or subsequent days
2.6 To record cleaning activity on designated charts (eg for daily, weekly and
monthly activity).
2.7 To record and monitor temperature records for food that is cooked, reheated
and held hot on designated charts.
2.8 To undertake any cleaning duties (operating with a 'clean as you go
mentality') as required for the business during your shift, including immediate
clearing and wiping down of tables in the café and general tidiness in the
shop.
2.9 To advise the Shop Manager or his deputy regarding any business
opportunities that may come to light within the business.
2.10 To report any incidents that should be brought to the attention of the Shop
Manager including but not exclusively, accidents, injuries and hazards.
3. Responsible for
3.1 Promoting a safe working environment
3.2 Ensuring that all procedures and processes are adhered to.
3.3 Ensuring a customer focused approach.
4. Responsible to
4.1 The Managing Director & the Chef
We are looking for a Pizza Night Assistant to join our friendly team on our busy Pizza Night every Wednesday. The successful applicant will work a 7 hour shift from 4pm until 11pm every Wednesday. There is some potential to work extra hours in the business on a cover basis if required and if desired. The role will require the ability to work in the shop/cafe and assist in preparing and serving food for service during the Pizza Night. The role also involves washing up and clearing down during and at the end of the shift to prepare the shop for the following day's trade.
We need flexible people with a customer focused outlook and a confident and outgoing personality. Shop and catering experience is desirable for our busy environment.
Crich is a rural location and own transport is essential.
Applications must include a CV and covering letter detailing your suitability for the role. If you require further information about the duties involved in the role, please
contact us
.
Tuesday 5th August
Soup: Fennel and Pear
Dish of the day: Sun-blushed tomato, roast pepper and goat's cheese bruschetta

Wednesday 6th August
Soup: Fennel and Pear
Dish of the day: Sun-blushed tomato, roast pepper and goat's cheese bruschetta

Wednesday night is Pizza Night
Pizza of the week: Minced lamb, crushed chickpeas, chard, redcurrants and mint
Desserts: Raspberry frangipane tart, Blueberry cheesecake, tiramisu

Thursday 7th August
Soup: Carrot and lentil
Dish of the day: Pea and mint risotto

Friday 8th August
Soup: Carrot and lentil
Dish of the day: Pea and mint risotto

Saturday 9th August
Soup: Butternut squash
Dish of the day: Stuffed Mediterranean chicken breast with salad and pine nuts

Sunday 10th August
Soup: Butternut squash
Dish of the day: Stuffed Mediterranean chicken breast with salad and pine nuts
« previous page
   (Page 1 of 1, totaling 5 entries)   
next page »