Hello all,
I can't believe how quickly the autumn has flown by - perhaps it was that late summer sunshine that helped shorten the November drear. Anyway, the Christmas lights have been up for a while and I have been singing carols for weeks now so it's definitely time to tuck into a warm mince pie, settle by the fire and catch up on the latest news from the loaf!
Christmas news
Ordering bread and delicatessen products over Christmas
I'll get the administrative bit out of the way first! Christmas orders for this year need to be with us on this order form by Thursday 18 December (next Thursday) at the very latest. You can either print off the pdf or pick up a copy from Crich, fill it in and hand it back in to the shop. Please make sure there is a clear full name and telephone number on the top of the form so we can get hold of you should we need to.
If you would like to order any cheese, olives, cold meats or patés, please make sure you make a note on the bottom of the form or talk to Katy, Caroline or Rog in the shop.
Christmas present ideas and stocking fillers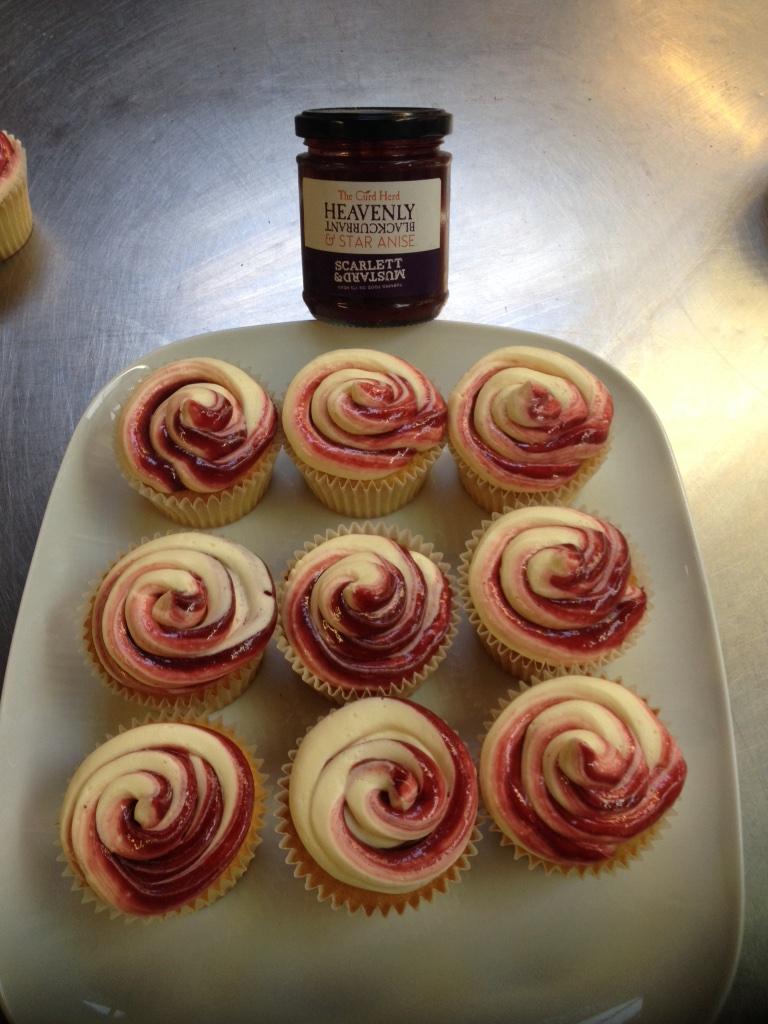 Rog has been sourcing a great selection of interesting and delicious jars, pots, packets and tins for you to pick up and put together a lovely selection as a gift. There are plenty of locally produced goodies, so look out for the Derbyshire flag indicating something that is Derbyshire-made. New in this month are the jars of unusual and tasty curds from Scarlett & Mustard. Cindi has been making these delicious buns using them and they have been going down a treat.
Christmas opening hours
Our opening hours are as follows over the Christmas and New Year period:
Saturday 20 December - open as normal
Sunday 21 December - CLOSED
Monday 22 December - CLOSED
Tuesday 23 December - open as normal, orders for bread recommended
Wednesday 24 December - open 8am - 1pm, bread to order only, no café service
Thursday 25 December - Monday 29 December - CLOSED
Tuesday 30 December - open as normal, bread orders recommended
Wednesday 31 December - open 8am - 3pm, normal café service, bread orders only
Thursday 1 January - CLOSED
Friday 2 January - CLOSED
Saturday 3 January onwards - open as normal
Bread in Matlock
As many of you will already know, in November our lease for the Matlock Green shop came to an end and we took the difficult decision not to renew it. However, as my Mum always says 'a way will be shown'! Sure enough, Judith from Peli Deli got in touch straight away to ask if we were looking for anywhere to stock our bread. Absolutely!
So, from January 3 (if all preparations go to plan!), bread from the loaf will be available to buy freshly baked daily from Monday to Saturday. If you don't know Peli Deli, it is the lovely café on the roundabout right opposite the entrance to Hall Leys Park in the centre of Matlock.
We will also continue to come to the weekly Wednesday market and the monthly (third Saturday) farmer's market which are both on Hall Leys Park.
Baking sourdough with Crich Junior School
One of the highlights of the Autumn for me has been introducing the children at Crich Junior School to the mysteries of sourdough bread baking. Over the course of the Autumn term, every pupil in the school has had a go at creating life - making a sourdough culture from scratch, kneading their dough, shaping and then baking their own sourdough loaf.
The full story is on the Crich Junior's website and also on the Crich Area Community News website.
And a week from now, I will be seeing just how much they have learnt as I will be judging a sourdough bread competition at the school Christmas Fair. I look forward to seeing and tasting the results of their labours - perhaps I will spot a future apprentice baker!
Out and about up til Christmas
We still have a number of Christmas market commitments between now and the 25th. This week we are in Matlock on Wednesday and hopefully on Saturday, Chesterfield on Thursday, Swadlincote on Friday and Belper on Saturday. Next week sees us in Matlock on Wednesday and Saturday, Derby on Thursday and Bakewell on Saturday. Then on Christmas Eve itself, we will be in Matlock for the Wednesday market but will be bringing bread down to order, so please get your orders this week and next. Wherever you come across us, we look forward to seeing you there!.
Bread-making courses...late availability and new courses for 2015
Such has been the interest in bread making that folk who have been on a couple or three of my courses keep asking me what I am going to offer next. Well with this in mind, I have been doing some international research. In the late summer, during a trip to Germany, I spent time baking in three different bakeries. You can read the full story and see the pictures on the blog, but this adventure has inspired me to develop two new courses for 2015...'Brot' and 'Breads of the North'. However places are going fast so do contact Rog as soon as possible to secure a place.

Bread making courses are the ideal gift - a loved one gets to spend a day doing something fun, and you get to eat what they bake...win win!! So get onto the website for more details and buy a bread course voucher today!.
Last pizza night - Wednesday 10 December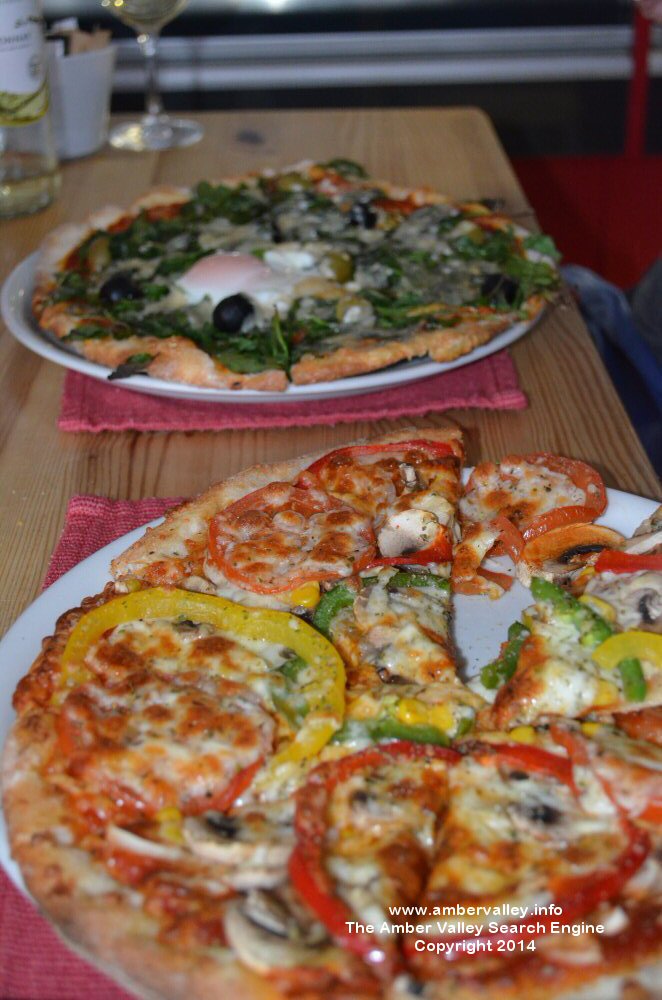 The last pizza night of 2014 is on 10 December. Rog and I really do enjoy pizza nights and are so happy to welcome such regular customers. We are glad you enjoy the freshly made, thin-crust pizzas and the home-made desserts and we look forward to welcoming you back when we start pizza nights up again towards the end of January.
The first pizza night of 2015 is on Wednesday 28 January. The menu and further information about pizza nights, including information about the weekly specials, are available on the pizza night page on the website.
Well I think that is about a mince-pie's worth of news for you to digest! All that remains to say is wish you a calm and enjoyable Advent time, a happy and peaceful Christmas and a New Year full of excitement and fun!
Andrew and Rog
At the end of the summer, Rog and I were lucky enough to spend a week with our dear friends in Itzehoe, Northern Germany. I spent a very happy year living there in my early twenties and have some wonderful friends from that time with whom we are in regular contact and who visit us often. This time though, we were visiting them for a family wedding and a birthday party. It was a great trip and as well as being a sociable visit, I was able to spend three of the nights we were away baking at the town's busy bakeries. All three were extremely welcoming and I learnt a great deal in preparation for my German Baking course: 'Brot' which I am offering from January.
First up was the small bakery behind the
Café Königsberg
- partiularly popular for it's huge range of bread rolls. I rolled up at around 1.30am and spent the first quarter of an hour or so chatting to the three apprentices outside about their training whilst we waited for Meisterbaecker Martin to arrive. The owner of Café Königsberg is a lecturer at the local college and has a continual stream of young apprentices moving through the bakery as they complete their development and training as a baker. Unlike here, in Germany you have to complete a three-year apprenticeship in order to be able to call yourself a baker and get a job in a bakery.
Meisterbäcker Martin
Once Martin had arrived, naturally the hard work got under way! As specialists in the German breakfast favourite, the Brötchen (or bread roll), the Café produces over fifty different varieties. Particular favourites of the Germans are 'Laugenbrötchen' which are dipped in lye solution prior to baking to give them the distinctive shiny brown crust.
Laugenbrötchen
Although interesting to see, I am unlikely to introduce them at the loaf given our keenness to avoid chemical additives! However, they did give the apprentices an opportunity to show of their skills in making fun designs of rolls for the younger customers.
Before...
...and after baking!
Martin took a great deal of time to show me his hand-molding skills and the different techniques used in producing different shapes of rolls. For example, here is a series of photos showing how Hörnchen are made.
He also showed me a couple of techniques for getting different finishes on the loaves they produce. I particularly liked the finish on these beautiful rye breads.
Martin showing his skills hand-molding rye bread.
Look at the lovely pattern on the rye breads from the proving basket. These are ready for the oven.
I just loved the way these ones came out.
Next up was the patisserie specialist,
Konditorei Frähmcke
. Here I was welcomed initially by Jörg, the son of the father/son baking team. He turned out to be the German equivalent of a Real Bread proponent - just like me. I really got on well with him and was delighted to learn that their techniques, recipes and processes were all very familiar and similar to ours. Additive-free, using sourdough and preferments in all their breads and everything made by hand.
When Jürgen, Jörg's father, arrived, I started to ask about one of my personal favourites - poppy seed cake, or Mohnkuchen. He was only too pleased to get underway with the two-day process involved in making delicious yeasted poppy seed cake, inviting me to pop back the next morning to watch him finish them off.
Like me, Jörg has read up extensively to further his skills. A series of books he relies on are the Brotland Deutschland trio which I would just love to get my hands on! So if anyone out there has them and doesn't want them... !!!
Jörg has also promised to come and visit us in the new year when their hectic Christmas baking season is behind them.
Just loved these Ostpreussische rye loaves!
Here are a few more photos taken by a visiting journalist, Gaby Knoop:
With Jörgen, now friends in Real Bread!
Making croissants
Tucking in to the Laugenbretzel - Pretzel - I had learnt how to roll, twist and shape.
My final bakery visit was to
Bäckerei Carstens
. This is by far the biggest of the three bakeries and is run by Howe Carstens who I actually knew from my time teaching at the Kaiser Karl School twenty years previously. Howe had been in his final year at the time, and we actually took sport classes together and socialised with his group of friends in the local pubs! So it was really wonderful to see Howe in his bakery and to see it so busy and successful.
Despite its size (with 7 outlets and this year taking on 10 apprentices across the whole business!), Howe continues in his father's footsteps by making everything by hand and using traditional recipes and methods. One key difference, and one which was vital in a business of this scale, was the amount of product that was being frozen and chilled (retarded) during the production process. This was essential for being able to keep up with the volume of orders - particularly at the weekends. What impressed me most of all was the speed and hard work of the master baker, the bakers and the apprentices as they worked to produce literally thousands of each product line. All by hand. All in a relatively small bakery.
The fact that I don't have any photos to share of my visit here is testament to the fact that it was my third baking night during a short week when I had been socialising at full tilt during the days and evenings too! Evidence also of the fact that Howe put me to work hand-molding the two hundred odd fruit-loaves they had on order that day!! I am really hoping that Howe and his master baker pay us a visit here in Derbyshire so I can show them a rather more laid-back approach to baking (though we think we work quite hard too!!)!
I had an inspiring and educational week and, thanks to the organisation of Amke and Hans, my dear, dear German 'Eltern', I complete visits to three wonderful bakeries. Amke had also organised for the local newspaper to interview me so, if you read German, do have a look at the
lovely article here
.
I am really looking forward return visits from these bakers - we would be delighted to welcome them all at the loaf.
« previous page
   (Page 1 of 1, totaling 2 entries)   
next page »